Launched in 2009, TrackCompare is the UK's number one tracking site, we compare over 50 systems from 25 suppliers.
Quickly compare prices, features and exclusive TrackCompare offers from the top tracking companies. Browse for free and request free online quotes from your chosen suppliers.
Compare online now or call 0800 096 0400
Why you need vehicle tracking
Today, more than 25% of light commercial vehicles and more than 40% of HGVs are fitted with vehicle tracking – otherwise known as telematics. This is not surprising given that modern systems save as much as £2,000 per vehicle per year, and routinely make productivity improvements of more than 20%.
So you can hardly afford not to invest in tracking. More to the point – what is the best system for you? This is precisely where TrackCompare comes in: so complete the details in the box above and compare now.
Tracking brings a host of major benefits
With online vehicle tracking you can see where your vehicles are on-screen 24/7, allowing you to divert drivers to meet customers in seconds. What's more, most systems provide details of each driver's speed, driving behaviour, fuel consumption – and even any unauthorised use.
Also, thanks to live and historic reports, you'll find you can manage your business better, improve efficiency, boost productivity and cut costs. At the same time, each of your drivers will remain in constant touch and stay better protected.
Pays for itself in a few short months
One of the most important facts to bear in mind is this: a typical tracking system pays for itself in just a few short months – based on fuel savings alone.
Less than 1% of the cost of putting a van on the road
Here's another remarkable fact: tracking amounts to less than 1% of the cost of putting a van on the road.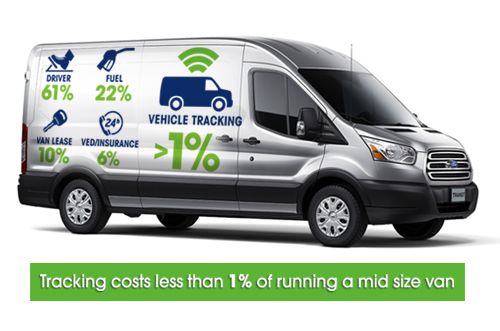 Consider these typical monthly figures: driver – £1400, fuel – £400, van – £200, tax and insurance – £150. Total – £2150 (and that doesn't include maintenance, spares and repairs).
And the price of an average tracking system? Just £17.50 a month – or, put another way, a tiny 0.8% of the total cost of keeping a van motoring.
Yes, that's less than 1% plus the peace of mind that comes with knowing (in order of costs):
With tracking you can be sure…
Your van is secure, well utilised and being driven correctly
Your driver is safe and productive at all times
Your fuel is being used in the most efficient way
You are HMRC compliant
Risky driving isn't affecting your insurance premiums
Compare online now or call 0800 096 0400.
Ideal for any vehicle, all fleet sizes
The great thing about tracking is it brings big savings whether you're operating two or three vans or a thousand-strong mixed fleet of cars, vans and HGVs.
At TrackCompare we'll help you compare tracking systems that match your particular needs and provide full and comprehensive details in easy to understand comparison tables.
How vehicle tracking actually works
By now you might well be wondering how vehicle tracking actually works! Well, the heart of every system is a small electronic box. Installed in a car, van or HGV it reports the vehicle's exact position, speed, direction of travel – plus details about the way it's being driven – back to the tracking company's servers.
With modern systems, this information is displayed on-screen – live maps showing each vehicle's location. Reports covering historic management information are also provided.
For more information simply compare online now or call 0800 096 0400.