How CRH Transport avoided a £1,600 crash-for-cash scam
After placing forward facing witness cameras into their fleet CRH Transport were able to avoid bogus crash-for-cash claim against them.
CRH Transport are a driver training school based in Birmingham. They offer HGV, LGV, ADR & CPC training across the transport and logistics industry.
CRH's Managing Director, Chris Hetherington said: "We were experiencing three to four crash-for-cash incidents a week at one point and to defend ourselves we had to provide evidence,"
Chris explained that their fleets livery makes it obvious that they are a driver training school and he feels this is why they are frequently targeted by crash-for-cash scammers.
The company said that they would often just pay out for smaller claims as they had no evidence to prove their innocence and that it was a cheaper option than claiming on their insurance.
Now however, with the cameras installed they can disprove any bogus claims and by not paying out for these claims they have already saved they cost of the cameras within the first 6 months.
Chris said "now there's no way I would consider sending out any of our vehicles without a camera"
The RHA states that the industry is currently 60,000 driver short but Chris believes that cameras will encourage new drivers in.
"New drivers need support and back-up from their fleet managers" He said and added that cameras give drivers a confidence boost.
According to Chris 80% of the road accidents he sees involving trucks, the HGV driver unjustly gets the blame. But now CRH have the tools to prove otherwise
Currently around 60% of claims without video evidence are disputed, but when Video evidence is present only 2% of claims are disputed. The costs saved by non-disputed claims to insurers amounts to a huge sum and this saving can often be passed on to the customer in lower insurance premiums.
The camera of choice for CRH Transport is the SmartWitness KP1 which features a 170 degree lens capuring HD footage stamped with the time date and location and uses g-sensors to lock the footage in the event of a crash or incident. This footage can be automatically sent straight back to a fleet manager quicker than it can take for the driver to report the accident. This means that they always know what has happened to any vehicle in their fleet as soon as it happened and get it under control quickly and efficiently saving money and time.
The KP1 also offers tracking capabilities meaning the fleet manager can see where all his vehicles are at any time this can help with route planning and rescheduling, identifying drivers for nearby jobs and the security of the fleet.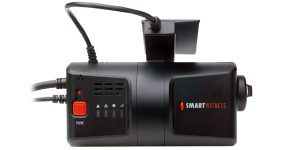 Interested in protecting your fleet against crash-for-cash scams?

Fleet Focus are a principle partner and leading supplier of SmartWitness
Speak to Fleet Focus today for more information on commercial vehicle camera & safety systems including FORS compliance solutions.
When it comes to vehicle safety systems, experience is everything. Fleet Focus have worked with fleets and insurers across the UK and Ireland since 2009.
They specialise in the supply, installation and support of multi-camera recording, observation and blind-spot safety systems and are an official FORS associate.
Get in touch with Fleet Focus
What do you think? Comment below