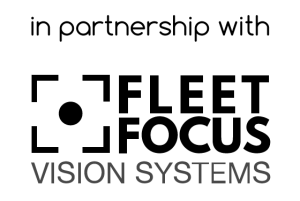 ORDER YOUR FORS PACKAGE BEFORE THE END OF SEPTEMBER AND RECEIVE A FREE BRIGADE REVERSING ALARM
DESIGNED FOR THE JOB
Our FORS compliance package provides everything needed to meet the requirements of the FORS Silver specification. It includes side and rear cameras, a genuine Brigade side ultrasonic system, Brigade left turn sounder and a low glare 7″ driver display screen providing footage from the side and rear of the vehicle.
Built for commercial fleets our FORS solution helps prevent accidents by giving the driver enhanced visibility around the vehicle and alerting them to objects and people they may not have seen in the nearside blind-spot.
MINIMAL DISTRACTIONS FOR DRIVERS
To minimise distractions to the driver our FORS solution is fully automatic. Smart camera switching prioritises and displays the right camera view at the right time, and in low light conditions, Fleet Focus systems will automatically switch to night vision mode.
To minimise false alarms and helps to prevent drivers from blocking the warning speaker, the side ultrasonic system only activates when the left indicator is used and the vehicle is travelling at less that 14MPH.
By beeping when a person or object is detected in the blind-spot the ultrasonic system alerts the driver to danger.
MAXIMUM OFFICIAL WATERPROOF RATING
Cameras fitted to the outside of a truck get a hard life often receiving knocks and bumps, extremes or temperature and high pressure water spray. To combat this our cameras are built using cast aluminium housings which will not rust, and use aircraft style screw-plug connectors with silicon seals.
Due to their construction quality our cameras have achieved the highest IP69K waterproofing standard meaning they could be fully submerged or subjected to jet washing without water ingress.
WHAT DO YOU NEED TO BE FORS COMPLIANT
The safety equipment required to achieve FORS Silver spec depends on the vehicles weight and class.
Source: FORS Standard 3.3
REGISTERED FORS ASSOCIATE
As a registered FORS Associate we can help with all aspects of compliance with FORS standards.
Designing, supplying and installing our own solutions means that we are in control of quality throughout.
To find our what our customers think of our products and services visit our Customer Testimonials section.
For advice on compliance contact
our consultants on 0800 009 3006.
TALK TO FLEET FOCUS ABOUT ELIMINATING BLIND-SPOTS
PROTECT YOUR DRIVERS, YOUR BUSINESS AND OTHER ROAD USERS
Reversing and maneuvering are some of the highest risk and most stressful tasks a professional driver will face.
Although only a small proportion of driving time is spent in reverse, a staggering 25% of road deaths are caused by reversing vehicles.
Research suggests that 70% of incidents could be avoided with the right equipment.
With Fleet Focus PRO solutions the driver has vision all around the vehicle, day and night. Up to eight camera views can be shown automatically or selected on demand.
FEATURES
2 heavy duty cameras
7″ colour monitor
Smart camera switching
IP69K waterproofing
Infra-Red night vision
3 Head
Cornerscan
Low Speed ECU
Left Turn ECU
Backchat alarm
Reversing alarm
7 year DPA stickers
APPLICATIONS
7″ active screen automatically displays the right camera view to the driver when manoeuvring.
SIDE CAMERA AND ULTRASONICS
Pod mount side camera, for more examples see our installation portfolio.
HIGHEST WATERPROOF RATING
Our tough aluminium cameras are rated at IP69K to provide the highest level of waterproof protection with wide angle lenses to capture high quality video.
AREA OF PROTECTION
Viewing angles and ultrasonics coverage are for illustration only.